Been thinking lately that it could be a good municipal function to provide people with access to an 'online home', analogous to ensuring provision of physical homes.
In the same way it could be social, affordable, in a co-op, heck even (but hopefully not) private and rented. The municipality provides some infrastructure and codes/regulations to make sure there's a home for everyone and that everyone can move freely if they want. But equally you can build your own home or move into an intentional community if you want and have the wherewithal to do so.
Not talking about a StateBook – if the state has any function in it, I think it should be regulating for open protocols and standards, or even just bare minimum access to data and data portability (newsocialist.org.uk/do-we-really-need-a-statebook/). I'm thinking more like Indienet – (indienet.info/) – the project in Ghent (coordinated by @aral@mastodon.ar.al) to provide each denizen with their own connected node in a wider p2p/federated network. I mean municipal more in the sense of libertarian municipalism, self-determination and federation of villages, towns, cities.
Obviously access to physical housing is a mess, at least where I'm currently living, so maybe not the best reference point. But I'm finding it an interesting framing. Every Facebook or Twitter profile is currently a home on the web, and it's as if billions of people all have the same corrupt landlord.
This is kind of implicitly assuming that everyone *needs* a home on the web. That is certainly a debatable point. It is definitely becoming more of a part of the fabric of everyday life, and you could argue that it shouldn't be.  I vacillate on this a bit but overall I tend to think that the benefits can outweigh the negatives, when it has a social motive and not a profit motive.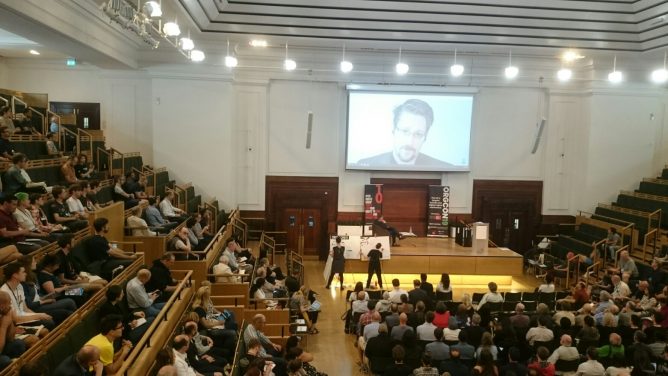 ORGCon
was very enjoyable.  In a nutshell, you could sum it up as: there's some bad shit happening when it comes to misuse of technology, but also there's plenty of people trying to push back.  I'll try to jot down a few of my notes and thoughts from it while they're reasonably fresh.  First up, Snowden's keynote.
Remember this chestnut from Eric Schmidt, CEO of Google at time?
"We don't need you to type at all. We know where you are. We know where you've been. We can more or less know what you're thinking about"
That was nearly 9 years ago.
Amazon doesn't feel it has a responsibility to make sure its groundbreaking technology is always used ethically.
"Civil rights groups have called it "perhaps the most dangerous surveillance technology ever developed", and called for Amazon to stop selling it to government agencies, particularly police forces."

"Mr Vogels doesn't feel it's Amazon's responsibility to make sure Rekognition is used accurately or ethically.

"That's not my decision to make," he tells me."
Murky AF. I guess this kind of moral self-absolution is a necessity if you're in charge of Amazon.
"He likens ML and AI to steel mills. Sometimes steel is used to make incubators for babies, he says, but sometimes steel is used to make guns."
Amazon's ML/AI is not a raw material. It's shaped (and sold) by a cadre of people at Amazon.
Do they build in any accountability mechanisms to their algorithms?
They're making a loaded technology. They're making the guns, and he's saying "hey – it's not our responsibility to add safety catches."
The project has as its working title We Have Never Been Social: Rethinking the Internet. It revisits the history of the Internet's development and, in particular, the rise of the social media structures that have come to dominate so much of our experience of networked communication, arguing that a significant part of what has led us to the mess we find ourselves in today is a desperately flawed model of sociality, one that is in fact not just un-social but anti-social.
What if the problem with social media isn't just that it got centralized, but something deeper than that?  Looking forward to seeing this project by Kathleen Fitzpatrick progress as she looks at the history of sociality online.
That is to say: if the problem has not been the centralized, corporatized control of the individual voice, the individual's data, but rather a deeper failure of sociality that precedes that control, then merely reclaiming ownership of our voices and our data isn't enough. If the goal is creating more authentic, more productive forms of online sociality, we need to rethink our platforms, the ways they function, and our relationships to them from the ground up. It's not just a matter of functionality, or privacy controls, or even of business models. It's a matter of governance.
Despite the liberatory potential of technology, of which I see free software playing a big role, there's a very real concern of ending up with a kind of technocratic 'vanguard party'.
You can debate the merits of vanguardism in general, but couple it with the current disproportionate skew of tech roles to white and male – which is even more pronounced in free software at present – and throw in the 'scratch your own itch' trope.
That's a huge systemic problem as vanguard becomes regime.
Some things I am learning: if you're white and male and into free software (I am), recognise that you have a very blinkered and narrow view of the world.
* Spend half the time you use learning Yet Another Technology to educate yourself about race, gender and class struggles (historical and present).
* Pipe down and listen to others when it comes to discussions about what is needed in software.
* Don't 'scratch your own itch' – serve a community. If you're white, male and technically proficient you've got enough privilege in the bank to pay it back building for others rather than yourself.
Wow, AnySoftKeyboard gesture typing just got much much better in the latest release.
IndieWeb is more and more starting to feel like a genuine social network for me.  It's happening slowly, but I'm building up a list of people that I follow in my reader, and I get the odd interaction back here and there.  And it's not all just inside chat about IndieWeb plumbing.  Good stuff!
(Not saying it wasn't already a social network for other people – this is just my own experience.  If I'd been blogging to my own site for 20 years, or joined micro.blog, I'm sure I'd be there already!)
#IndieWeb
Most economists suffer from misplaced optimism about the oncoming Fourth Industrial Revolution. Some reskilling here and there would suffice to spread its benefits to all workers. They ignore how capitalism invents and employs technology for profits, not people.
I first came across the idea of the third and fourth industrial revolutions (3IR and 4IR) in
Jackson Rising
, where the technologies of these present and upcoming revolutions were seen as potentially liberatory, if used in the right way.  The possibilities are exciting, with (amongst other things) fablabs enabling manufacture to move local, and an open web allowing information resources to be shared globally.
Unsurprisingly though, there's a very capitalist potential outcome of 3IR and 4IR too.
Like the previous revolutions, it *could* be liberatory, or it *could* as easily reinforce existing inequalities. The historical record isn't too great in terms of global equality and liberation.
This article makes the argument for ensuring these revolutions are for liberatory ends.
"how technology is put to use fundamentally remains a social choice and a "global network of resistance" to the way the emerging technologies are utilised "is both necessary and feasible."
To me that's a given really – shame the article doesn't go into much detail on actual strategy. (Which Cooperation Jackson do in great detail.)
There's much more to 3/4IR, but selectively quoting from the connectivity and communication parts, as they piqued my IndieWeb interest:
"While social networking provides relatively open spaces for public expression, the immense wealth that is generated by the techno-capitalists shows us that even public spaces can become a profitable business model."

"necessitates the need for resistance against the tendencies of capitalism in general that has historically encroached upon public spaces for profit."
Here's to being part of a global network of resistance.
Thanks for this writeup, Ton.  I have been using a gmail account as the firewall between the world and my real email account, but this looks like it could be even better.  I'm not particularly happy with some of my mail going through Gmail, even if it's just for the more disposable accounts.
Our team away afternoon at the start of November was a trip to
The Glassroom
, a 'pop up tech store with a twist'.  It was set up in a space in central London, by Mozilla and the Tactical Technology Collective, and upon entering it looks pretty similar to an Apple store.  Cool white colours and 'products' on pedestals, even a Genius bar (though here named the Ingenius bar).
The topics of the exhibit were personal data, personal data security, and privacy.  It's purpose was to get us thinking about the kind of information that is stored about us online, who owns that data, and what they are doing with it.
We don't need you to type at all. We know where you are. We know where you've been. We can more or less know what you're thinking about.

— Eric Schmidt, when he was CEO of Google